Israel would like to welcome you to his new superhero room!  This past week we gave both of the kids a little makeover.  We moved into our house in February of 2017 and I just never cared for how the kids' old stuff transferred into their new rooms.  It just never felt "pulled together" for me.  I loved BOTH of their rooms in our previous house.  You can see Israel's room HERE.  Actually looking back at that post, I really loved his room.  Why did I ever change it, ha?!  Anyways, change it I did, so here we go!  Please Note:  I am NOT a home blogger, and will never claim to be one.  I just like to share our at-home-happenings!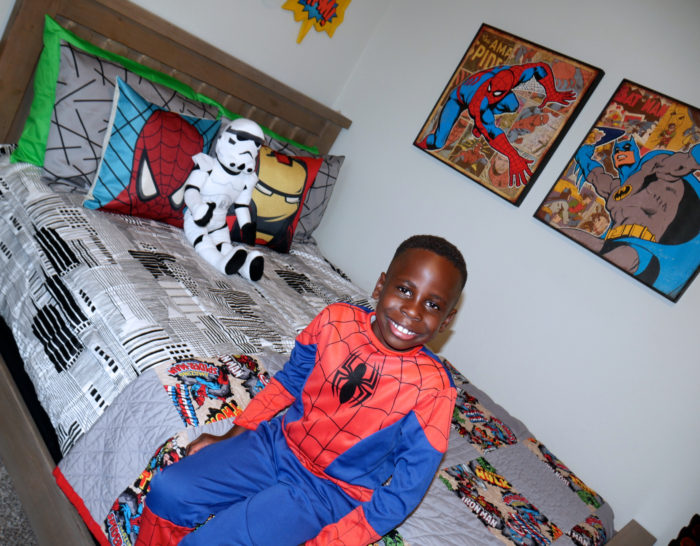 Here's what his room looks like as you enter…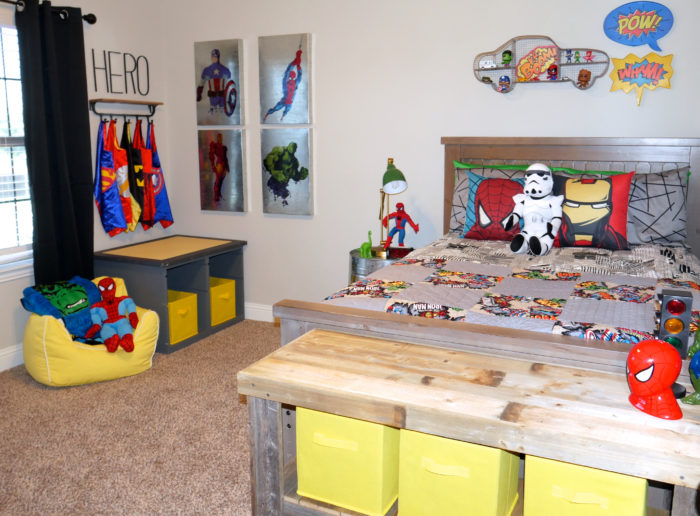 Originally I was going to go for a modern superhero look, but it definitely turned out more superhero-y than modern.  But, he loves it so all is well!  AND, the nice thing about his room was I didn't have to buy near as much because we used so many of his superhero toys, costumes, and books as decorations!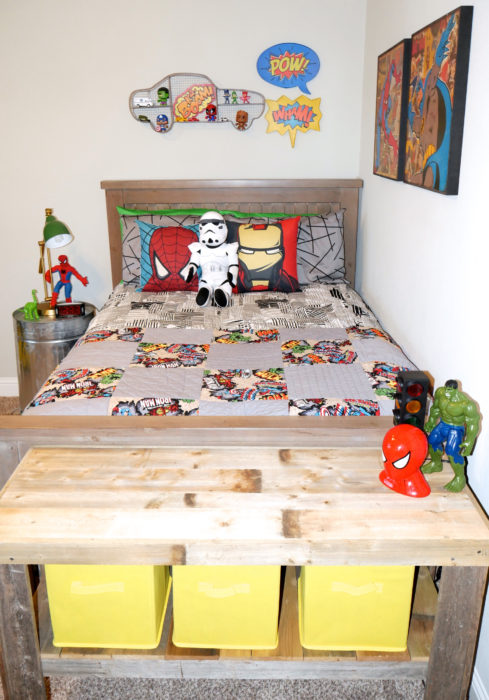 Bed:  Rooms to Go Kids (discontinued), Table:  flea market, Yellow Bins: Amazon, Stoplight Lamp:  Amazon
We had a lot of superhero stuff already.  The Spiderman and Batman signs were from Hobby Lobby years ago.  Also, we didn't do any painting or hard labor with these makeovers.  I wanted all of their furniture and main pieces to be able to last for YEARS to come.  I can change out bedding and artwork super easy if the big pieces can stay!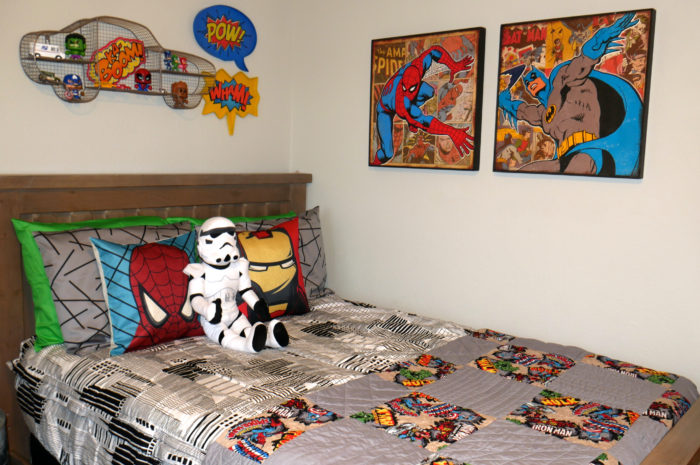 City Scape Bedspread:  Beddys, Superhero Pillows:  LilPepper Jewelry on Etsy, Car Shelf:  Target, Superhero Word Signs:  Hobby Lobby
I knew we hit the jackpot when we found these metal signs at At Home.  Israel was pumped!  We don't keep a lot of toys in the kids' rooms since they have a playroom downstairs.  They would both much rather be near where we are, and it really helps keep their rooms tidy.  I very rarely have to pick up after them other than a few books, socks, and hangers.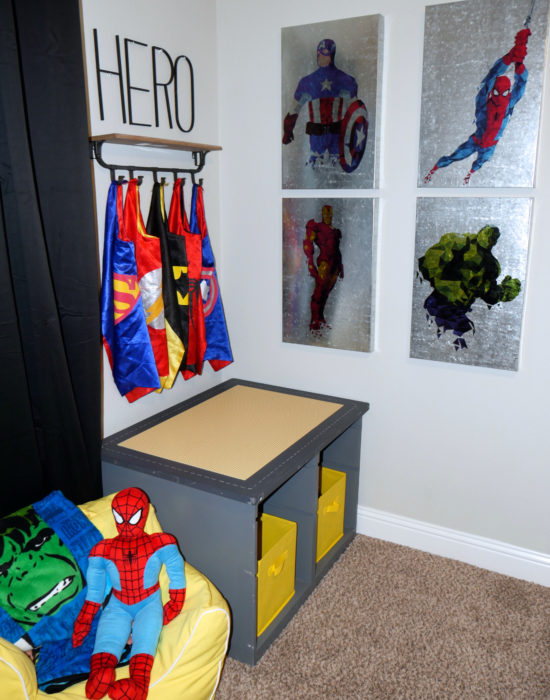 Hero Letters and Shelf with Hooks:  Hobby Lobby, Metal Pictures:  At Home, Lego Table was made by Jared's parents, Superhero Capes:  Amazon, Marvel Blanket:  Amazon, Plush Spiderman:  Target, Black Black-Out Curtains:  Amazon
I don't remember where I saw this idea, but I've always used a tin trashcan for his bedside table.  It actually works perfectly and was cheap!
Trashcan:  Lowes, Lamp:  Target
My sister made Israel a bulletin board for his birthday.  He plans to put his artwork up there, but for now I just printed out superhero clip art and pinned it up!  I'm still trying to figure out what to put on his dresser.  You can go really overboard with the superhero theme, so I am just going to think on it a little more!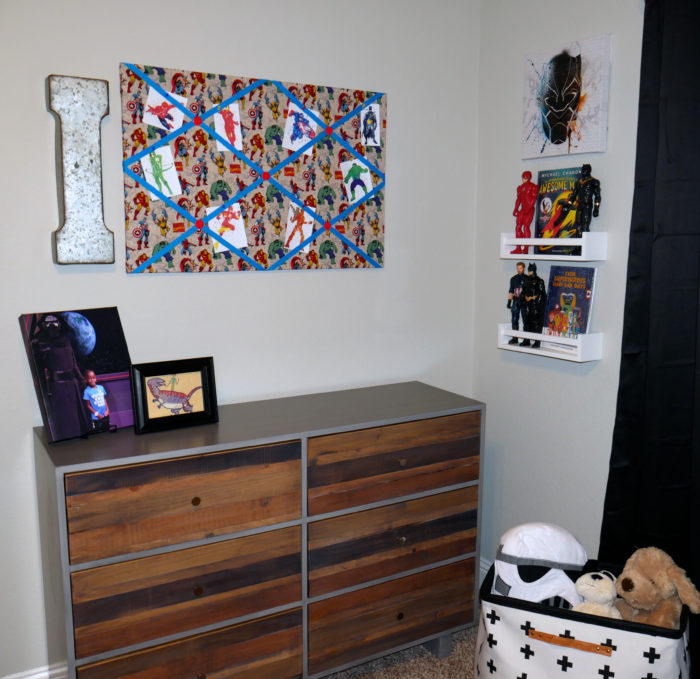 Dresser:  Rooms to Go Kids, Spice Racks:  Amazon, Metal Letter:  Hobby Lobby, Basket and Black Panther Art:  At Home
I saw this idea on Pinterest, but I can't find a link to match it!  I wanted to display some superhero figurines and books, and these spice racks were the perfect match!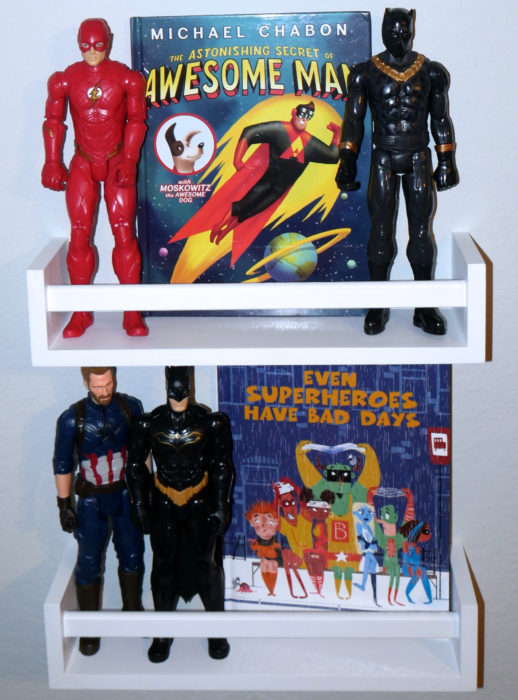 Awesome Man:  Amazon, Even Superheroes Have Bad Days:  Amazon, Spice Racks:  Amazon
It definitely didn't turn out how I envisioned, but I do still love it!  And, most importantly… Israel is obsessed and so proud of it.  I hope he loves it for many years to come because I am extremely exhausted, ha!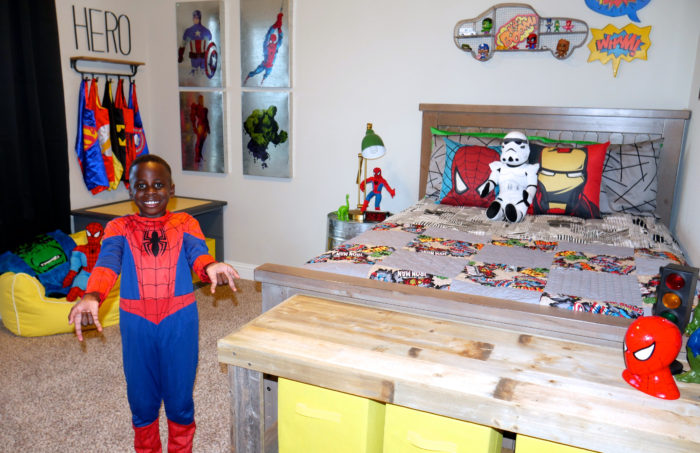 {Amazon Affiliate Links are used in this post}